AF13 – German Coastal Patrol Boat
There are 2 of these German patrol boats that have been sunk  between Dieppe and Fe'Camp, 
AF13 located in just 20mtrs of water, One is upside down and very broken, the other is on its side, her armaments  buried in the sand and depth  charges scattered around. They make interesting second dives.
HMS Berkeley – The Royal Navy escort destroyer  HMS Berkeley formed part of the attack force for the  raid on Dieppe on the 19th August 1942 she was  272x28x8 and had 4×4"guns & 8 smaller guns.  At approx 12.50pm HMS Berkeley received a direct  hit from German aircraft bombs which broke her  back and she sank with the loss of 15 lives.
Today she rests in 20mtrs of water and she is broken into 2 main sections which stand 4mtrs high in places.
 HMS Daffodil – During World War Two, three train   ferry ships (TF1, TF2 & TF3) which had been built  during World War One were requisitioned by the  Royal Navy. In 1940 TF1 and TF3 were renamed  HMS Princess Iris & HMS Daffodil. They were   renamed and named after the ex-Mersey ferries  which were used in the famous World War One  Zeebrugge raid.
 In 1941 HMS Princess Iris and HMS Daffodil were  converted into Landing Ship Sternchute (LSS) and  used as locomotive transports. HMS Daffodil (ex- TF3) was lost off Dieppe on March 17th 1945 after  striking a mine. HMS Princess Iris survived the war  only to be broken up for scrap. The fait of TF2 was  not so lucky, she was also sunk near Dieppe after  coming under fire from German shore batteries and sank close to shore in only 15mtrs of water, today the wreck off TF2 is quite broken up. 
HMS Daffodil is a big old wreck she was 107m long with a beam of 18m, she was powered by 2 6 cylinder triple expansion engines giving her a speed of 13knots. Today the wreck of HMS Daffodil wrests in only 24mtrs of water, she sits upright and is pretty intact giving good swim throughs wreck penetration. The marine life on her is superb with large shoals of Bass and Black Bream in the wreckage.
  UJ1404/Franken- German Submarine Chaser
 The German Submarine Chaser UJ1404 was sunk   during the disastrous Dieppe Raid of August 1942.
 Seen as a trial run to test the defences for the  Normandie Landings in 1944 this raid ended with  the massacre & capture of troops from the  Canadian Regiments & British Commando Units.
The wreck of UJ1404 rests in 20mtrs water and is over to port by maybe 45degrees. She is quite broken with a gap between the main body of the ship and the bows. A large 88mm gun lays in the wreckage of the bow with munition scattered. As you move back towards the stern the bridge and superstructure is collapsed down & open in places. The boiler, engine,  stearing gear & irn prop are all visable. There are depth charges in & around the stern. 
 This large merchantman some  232x36x14m was    taken over by the German navy and used for escort  duties.On the 11th of December  1942 she was  attacked and sunk by British warships  8 miles to   the north of Dieppe, there were only three  survivors   from the sinking.
I Today this wreck sits on an even keel with   the bows  being the highest point, she rests in  only 25mtrs of  water and is very intact, a large  gun sits on the  bow as if ready for action, with the magazine store below full of ammunition. As you work your way back along the wreck you can explore the large hold area which gives good access for penetration, before you get to the engine room and then on to the rear and the stern accommodation. Debris litters the seabed and on one of our visits, all around the stern were dozens of cuttle fish, a fabulous sight
           Sperrbrecher 144 / Le Beijerland.  
 The Beijerland was a Dutch cargo ship launched in  1939 near Rotterdam. She was nearly 200ft in length  & had a beam of almost 30ft and she weighed in at  387 tons.  She was powered by a large 12 cylinder  engine producing 640 horse power.
 The Beijerland was seized by the germans during the  invasion of the Netherlands and converted into a  armed merchantman & re-named  Sperrbrecher 144.
The Sperrbrecher 144 now rests in less than 20mtrs of water and is quite broken open, her large diesel engine sits upright in the middle of the wreckage, as you move to the stern you come across one of her large deck guns with munitions scattered around. Her large rear stearing  gear is openly visable and as you make your way back towards the bows you see masses of fish and sand eels all around. The seabed is a mixture of shell, shingle & white sand this gives great visability.
DESTROYED BY DESTROYERS
SPERRBRECHER 178/GAUSS & SPERRBRECHER 144/BEIJERLAND SUNK 1942
SPERRBRECHER 178 WAS ORIGINALLY LAUNCHED in 1925 by Deutsche Werke AG of Kiel as the 1236-ton motor ship Gauss for Neptun Dampfschiffahrt-Gesellschaft of Bremen.
In 1942 the Gauss was requisitioned and converted to Sperrbrecher 178, entering service in September of that year.
The ship was equipped with a noisemaker for detonating acoustic mines, electrical generators and 6000m of copper cable wound round the hull to detonate magnetic mines, paravanes to sweep contact mines, an 88mm bow gun, one 37mm and eight 20mm anti-aircraft guns.
On the night of 12 December, 1942, Sperrbrecher 178 and Sperrbrecher 144 (formerly the 1939 Dutch cargo ship Beijerland), with a number of smaller escorts, were leading a convoy from Boulogne along the French coast.
It was a clear, moonless night with a light sea, a slight wind from the south-west and average visibility. The convoy was proceeding at a speed of 7.5 knots.
At 10.40, to the north-east of Dieppe, it was intercepted by a flotilla of Allied destroyers. For two hours a fierce battle raged and a torpedo from HMS Whitshed struck Sperrbrecher 178 amidships, sinking the ship in 10 minutes. Only three survivors were recovered from the crew of 102.
The destroyers concentrated their attack on the larger warships. The Norwegian destroyer Eskdale torpedoed and sank Sperrbrecher 144, with no survivors. The smaller escorts and ships of the convoy escaped to the safety of Dieppe, though some had sustained considerable damage in battle.
Out of more than 100 sturdy merchant ships converted to this dangerous role, nearly 50% were lost in action. After the war, some of the surviving ships were converted back to merchant service.
  Yatagan – This is the wreck of a small French Destroyer, 185x21x9, She had a top speed of  26knots and her armaments consisted of 1×9 pdr  gun, 6x3pdr guns & 2 Torpedo tubes.
She was lost due to a collision with the British steamship Teviot, north of Dieppe on December 3rd 1916, she carried a complement of 62 crew.
Today the wreck rests 33mtrs of water on her Port side, most of her plating has eroded exposing for all to see. Large piles of munitions lay scattered in the wreckage alongside her guns, 2 large prop shafts bend their way along the length of the wreckage and the marine life is amazing – click the ships name to watch the video.
4,035 gross tons, length 386.5ft x beam 41ft, one funnel, three masts, iron hull, single screw, speed 12 knots. Accommodation for 50-1st and 1,200-3rd class passengers. Built 1884 by Chantiers & Ateliers de la Gironde, Bordeaux for the Bordeaux Line, she started her maiden voyage from Bordeaux on 26th Feb.1884 but her rudder was disabled and she arrived at Halifax under tow by the Anchor Line ship CALEDONIA and eventually reached New York on 27th May. Her last Bordeaux – New York voyage was made in July 1888 and she was then chartered to the French Line for their Bordeaux – Havana – Vera Cruz service. On 28th Apr.1889 she was sunk in the English Channel in collision with British ship MANORA. 
The Chateau Margaux lies 24miles north from Dieppe in 41mtrs at high water & rests on her starboard side, the bow and stern are the highest points with the middle of the ship collapsed down to the seabed but still quite open and exposing her 4 large boilers. The fish life on this wreck is incredible but strangely no congers  The seabed is a fine white shingle shell giving good visability.

Braga 1938 – The Norwegian ship Braga built in   1938, she was 87mtrs long 13mtrs wide and had a  draft of 6mtrs, departed Dieppe harbour on 7th  Febuary 1961 and headed out to sea, but whilst  she was leaving she struck the harbour wall and    unbeknown to her, she had made a hole in her  hull.  The ingress of water must have been quite  slow as  she managed to get some 20 miles offshore before she sank.
This wreck today lies in 34mtrs of water at an angle of 45 degrees to her port side, still pretty together and ship shape you can access the accommodation areas and swim throughs.
SS Oijfeld – This Norwegian Steamship was built in 1912 she is 250ft long x 38ft beam.  A 3 Cylinder Triple Expansion    Engine sits exposed in the middle of the wreck with her 2 boilers side by side. This big wreck sits upright on an even keel, rudder & big iron prop still in place.
Lots of fish & marine life on this wreck with Pollack, Bass, Congers and a mass of Bib getting right in the way as usual, & Lobsters & Crabs wandering around.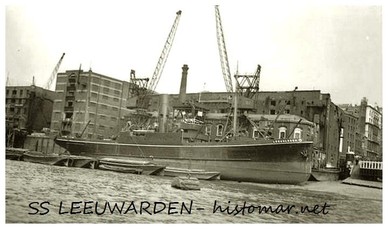 SS Leeuwarden:   
The Leeuwarden was sunk on 24th Febuary when the coaster was sunk by enemy gunfire, she was enroute from London to Dieppe with a cargo 560 tonnes of potatoes
SS Normandie: This French Transport Steamship rests in 32mtrs on an even keel, she is only 50mtrs in length with a narrow beam 8.3mtrs. The wreck is very collapsed down standing only a few mtrs high, The tallest part & standing high in the middle of the wreckage is a single engine and boiler exposed where all the ships plating has eroded & collapsed down around it. Bow & Stern is collapsed down with Prop and Anchor at the appropriate ends. An abundance of life cover this rarely dived wreck with most of the wreck under the shingle.
SS Heim:   The Heim was originally built as the SS Romanby by W Gray & Co, West Hartlepool in 1882. She was 260ft x 32ft x 20ft, fitted with a 2-cylinder compound engine. She was sold to T.H. Skogland of Norway in 1899 and renamed SS Heim.
On 18th April 1917 this ex British Cargo Steamer of 1700tons was on a voyage from Hull to Rouen with a cargo of coal when she struck a mine laid by UC-71, She sank North East of Dieppe in 25mtrs of water with the loss of 2 lives.
SS Netta:    This steamship built by Montrose Shipbuilding Co, Montrose in 1909 and owned at the time of her loss by Cheviot Coaster Ltd, Newcastle, was a British steamer of 370 tons.
On September 3rd, 1916, SS Netta was on a voyage from Rouen to Newcastle in ballast, she was sunk by the German submarine UB18. There were no casualties.
SS Maine 1917 :