Dive Brighton & the Sussex Shipwrecks of the Sussex coast from Brighton Marina which is a Premier Marina on the South Coast. Brighton has well established itself as one of the largest marina complex's in Europe, its prime position between Selsey Bill and Beachy Head gives charter boats easy access to the many hundreds of wrecks dotted along the Sussex coastline.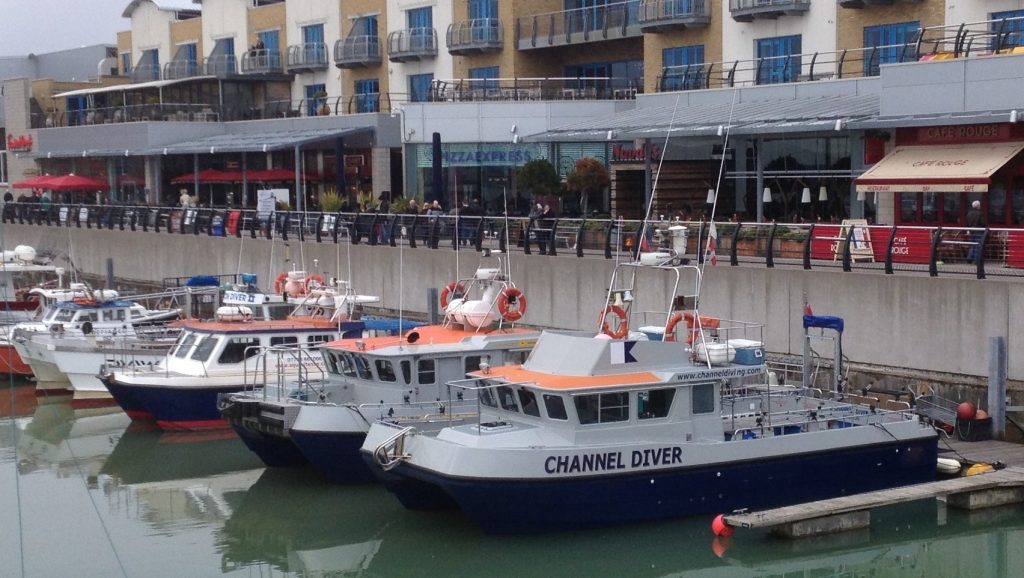 With such a large and varied number of wrecks to choose from, the diving around Brighton is proving to be extremely popular, there are wrecks of all shapes and sizes catering for all grades of diver, from the novice diver to the experienced technical/tri-mix diver.
DIVING CHARTERS PRICE LIST
Max 12 divers onboard
Band 1 & 2 ~ Wreck Dive & Drift Dive, Band 3 & 4 ~ All Dives deeper than 50mtrs & Dives over 20nm from Harbour ~ 1 Dive Only Days.
1 – Up to 15nm from the Marina 12@£65pp = £780
2 – Up to 20nm from the Marina 12@£70pp = £840
3 – Up to 30nm from the Marina 12@£80pp = £960
4 – Up to 40nm from the Marina 12@£90pp = £1080
 A deposit of £200 for a boat booking is required in advance to secure any dates
Cancellations in writing: Between 8 and 4 weeks notice, loss of deposit. Less than 4 weeks notice, full amount payable, Deposit will be refunded if another party found.
Midweek diving for Individuals:
From £65 per person depending on distance travelled (see midweek dive list)
Evening Dives: Evening wreck dives from £40pp / Evening drift dive £30pp
A deposit of £50 is required in advance to secure any dates booked by Individuals
If you book you pay & if you can't make it, its your responsibility to find a replacement.    
ALL DIVES SUBJECT TO CHANGE DUE TO WEATHER CONDITIONS OR UNFORESEEN CIRCUMSTANCES.
Whats on at Brighton Marina, – The marina itself has a large selection of bars and restaurants to choose from, it also has a cinema, supermarket, shopping square and bowling alley there is also the David Lloyd Sports Centre, for those who are members. There are hotels and guest houses within 5-10 minutes of the marina, and there is also a camp site directly above the marina itself. The town centre is only 15 minutes away, where there is an abundance of night life, clubs of all description, restaurants and other things to amuse.
Loading the Boat
On your arrival at Brighton Marina the boat pick up point in front of the Hotel & Restaurants & adjacent to the West Quay pub, After unloading your dive gear on to the boat you park your vehicle in the multi storey car park opposite, please do not park in disabled bays as you will get a parking ticket, otherwise the parking is free. Full directions on the How To Find Us Page
Brighton Dive Sites & Sussex Coast Ship Wrecks.
For further information and directions please visit Premier Marinas and click the Brighton link button or take a look on my
If you are looking for accommodation in the Brighton area here are 4 to try, they are just outside Brighton itself yet only 5 minutes from the marina.
      The Downs Hotel             Sea Breeze           The Travel Lodge             The White Horse Hotel               Brighton Tides