CHATEAU MARGAUX 1884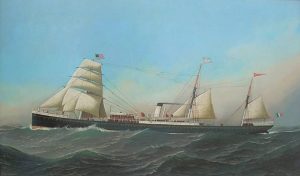 Chateau Margaux a 4,035 gross tons, length 386.5ft x beam 41ft, one funnel, three masts, iron hull, single screw, speed 12 knots. Accommodation for 50-1st and 1,200-3rd class passengers. Built 1884 by Chantiers & Ateliers de la Gironde, Bordeaux for the Bordeaux Line, she started her maiden voyage from Bordeaux on 26th Feb.1884 but her rudder was disabled and she arrived at Halifax under tow by the Anchor Line ship CALEDONIA and eventually reached New York on 27th May. Her last Bordeaux – New York voyage was made in July 1888 and she was then chartered to the French Line for their Bordeaux – Havana – Vera Cruz service. On 28th Apr.1889 she was sunk in the English Channel in collision with British ship MANORA.
The Chateau Margaux lies 35miles south from Eastbourne in 41mtrs at high water & rests on her starboard side, the bow and stern are the highest points with the middle of the ship collapsed down to the seabed but still quite open and exposing her 4 large boilers
. The fish life on this wreck is incredible but strangely no congers The seabed is a fine white shingle shell giving good visability. This is a First Class Ship making this a First Class Wreck.